include("leftMenu_products.htm") ?>
Testronics Model 402LV

Level IV
Backplane Test System
High throughput / high speed test of large backplanes, backpanels & midplanes
---

The trend in backplane / backpanel manufacturing is to build larger and more dense assemblies. Even today, backplanes with 40,000 test points are not uncommon. We developed the model 402 to address the test requirements of backplanes that are physically very large or have test point counts exceeding the 20k limit of the model 401.
Specific details:
65,536 total test point capacity (40,960 on the bottom side grid, 24,576 on the top side grid)
Tests backplanes up to 60"(152cm) in one pass / one fixture
Typical test time of a 40k point backplane is between less than 2 minutes
Compatible with existing model 401 fixtures and test programs
True 6 wire, non-multiplexed switch matrix
Simple in-field expansion with 5,120 point plug in grid modules
Test Capabilities:
Continuity testing down to .01 ohms
4 wire Kelvin for low ohm measurements
6 wire guard capability to measure components in complex circuits
Fully programmable measurement parameters and thresholds
Resistors, Capacitors & Inductors
DC Capacitor test for measuring large capacitances
Diodes, LEDs, Zeners & Transistors
Vectorless: Diode Junction Scan for IC Testing
Missing & Bent Pins
Connector Orientation & Keying
Detects High Resistance Shorts and Leakages
Isolation testing up to 100Mohms, (factory humidity levels permitting)
Independent control of the test result formats for the Display, Printer and Log file
Test function to allow the calling of an external EXE program
External I/O Control to allow Test Program control of active fixtures (dual stage, motors, etc.)
Top Side Access:
Reduce the cost of fixtures 10% to 20% by eliminating transfer pins. The 402LV provides up to 24,576 active test points located in the top press assembly. The Testronics 6 wire (pure pin) switch matrix card connects directly to the top side spring probes, thereby providing superior signal & measurement capabilities.
Model 402LV: 

      40,960 maximum test points bottom side grid
      24,576 maximum test points top side grid
      65,536 Total Test Points                

Maximum Backplane Size: 60" (152cm) 




Top Side Grid with stripper plate removed
In the past, the quantity of top side test points represented a small percentage of the overall backplane's test point count. However, today's larger, denser backplanes utilize many more top side test points than ever before. Therefore we have introduced a Top Side Access grid option to the model 402LV, our latest generation backplane test system. By using a Top Side Access grid, the need for fixture top side transfer pins is eliminated, thereby reducing the price of complex fixtures by 10% - 20%.
A Top Side Access grid is nothing new to Testronics as our first high pin count test system was built in 1985 and had 49k test points. The model 402LV's hardware and software architecture provides for a total of 65,536 test points, (each with 6 wire guarding, 4 wire Kelvin, and analog ICT). The switch matrix pin cards plug directly onto the back of the top side spring probes, thereby eliminating any cables for superior reliability and measurement performance & accuracy.

The 402LV's press still retracts, thereby keeping Testronics' proven design of 16 years which comes from the experience gained by having tested millions of backplanes on our systems. (By retracting the press, different fixtures are easily changed out plus grid maintenance & repair can be accomplished in seconds due to the open access.)

If you currently have a Testronics model 401, you can still use your existing fixtures and test programs as the 402 is 100% compatible. No adapters are needed. (Adapters are very expensive and add an extra spring probe contact per test point, thereby increasing the chances for intermittent probe contact & unrepeatable test.)
There are also three user grid (spring probe) areas available. The user defined grids can be used for a variety of applications such as:
Applying power to the backpane
Introducing functional test signals
Performing external measurements
Programming EEPROMs
Applying RF signals
Etc....
Typical System Configurations:
Even though the 402LV can configured to any test point count, here are a few of the typical configurations:
20k points bottom grid
30k points bottom grid
40k points bottom grid
20k points bottom grid + 12k points top side grid
30k points bottom grid + 12k points top side grid
30k points bottom grid + 24k points top side grid
40k points bottom grid + 24k points top side grid
Also, if in the future your test requirements change, you can easily increase the test point count of the 402LV on-site. No long down time, no shipping the system back. We will send a technician to your facility along with the upgrade kit and within just a short amount of time you will be back in production but with a larger test point capability.
Options:
Vectorless: HP (Agilent) TestJet (for IC testing & capacitor polarity verification)
Agilent programmable power supplies to power up the backplane for voltage testing
Relay Matrix Cards to allow connection to external instruments under program control
0-50 volt testing
0 - 100 volt testing
0 - 500 volt testing
I2C EEPROM, Flash, etc. In-System programming module
Twizard CAD translation utility for Net List programming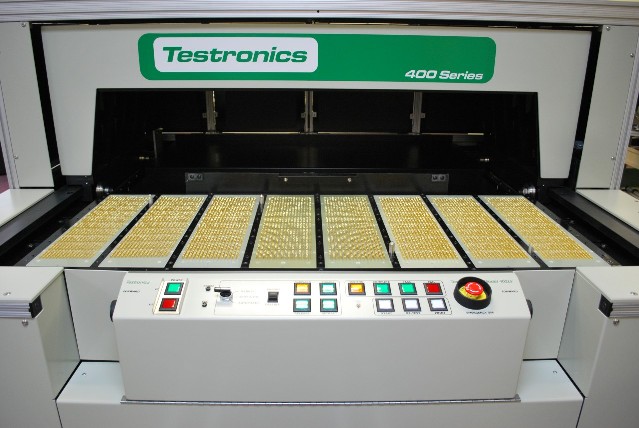 Model 402 Backplane Test System with 40,960 Test Points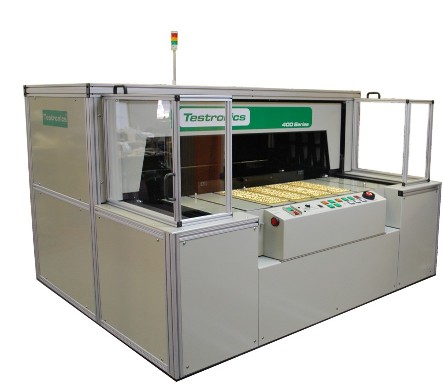 Model 402 Backplane Test System with 20,480 Test Points
Learn More about the model 402
To learn more about our latest backplane test system, the model 402, please visit our contact page or click here: Request More Information